Our Favorite Dinosaur Picture books
We just read and enjoyed our new favorite Dinosaur book Excavate Dinosaur; and thus came the urge to read some old favorites. Here are some of our favorite Dinosaur books (we own) which we have read gazillion times and keep reading some more.
Harry and the Bucketful Dinosaur Series Who doesn't know Harry and his bucketful of Dinosaurs? This is one of the very first books I bought for Aarya. He still loves this book! And he also enjoys the video series based on these books, I occasionally treat him with them! [youtube https://www.youtube.com/watch?v=4Qo3ccu0H40] How do Dinosaur series by Jane Yolen
How do Dinosaur goto School by Jane Yolen is a favorite. I like the whole series (we have How do Dinosaurs Get Well Soon, Book of colors and numbers) and think this book is a great one to read again and again!
Dinosaur Dream by Dennis Nolan Wilbur is reading about his favorite Dinosaur at bedtime when he hears a tap on his window. What he finds outside the window, is the start of a great adventure! Suggested for Grades 3 – 5, this is a surprise favorite of Aarya's. When I got this book, I really did not think Aarya will sit through it. But each time, every time, Aarya has sat through this. We have owned this book for an year and this is one of his favorites. A great introduction to Jurassic Period and a guest apperance from some extinct animals makes this book a gem. Gorgeous, real – like illustrations are a huge plus!
Dinosaur Farm by  Frann Preston-Gannon This is a Gorgeous book for Dinosaur lovers! What if there was a Dinosaur Farm, and you were working there? Farmer Jack and his pet dino-dog get up early each morning to tend to the duties on the dinosaur farm!  We got it at a lip-smacking price of 275Rs @ Crossword Bookstores; God! what a lucky find! I concur with every word in this review published on Rhino Reads! 
When Dinosaurs came with Everything by Elise Broach This is such a cute book, that I recommend it to any Dino-loving kid. At first, it's just another boring day of having to go run errands with Mom—and the little boy is not pleased. Then, at the bakery, they see a sign that says "Buy a Dozen Donuts, Get a Dinosaur." Thinking it would be a toy, Mom orders the donuts. But then the bakery lady brings a real triceratops, and wow …it is just the beginning!!! Indeed, on this special day, dinosaurs come with EVERYTHING! Absolutely adorable illustrations and I LOVE LOVE the Mom's reactions and the boys jubilation! You need this book, seriously!
Dinosaurs after Dark by Jonathan Emmet Sleepless Bobby hears noise outside his bedroom window, and when he follows it into the city he finds some dinosaurs to play with. This is a fun book. I like this one, but Aarya absolutely LOVES this book. The elements he likes are boy sleeping alone, boy scared of the dark, Dinosaurs, playing with Dinosaurs. It is a good addition to our collection. 
Dinosaur as long as 127 kids by Geeta Dharamrajan I absolutely am thrilled to feature a Dinosaur book by an Indian author with lovely colorful illustration and a fantastic story-line! This The Katha Chitrakala 2009 Grand Prize Winner features an adorable dinosaur who is cursed by a wicked Rakshasa ( demon ) because of which he can carry 127 kids on his back, not one less, not one more! So how did the little girl help Dino break the curse; you will have to read this hardbound book to know!
The Ravenous Beast by Niamh Sharkey I love Walker Books (publishers), I have many of there titles and we have loved each one of them, this one is no exception! With brilliant rhyming text, this is a FUN counting book with a FUN ending! Aarya adores this book!
Digging up Dinosaur by Aliki This is a great non-fiction book about Dinsosaurs! Great illustrations and some awesome facts are included!
Tyrannasauras Drip by Julia Donaldson It is a known fact that we are Julia Donaldson fans! We want to someday own EVERY book of hers. I personally LOVE Axel Sheffler as the illustrators of her books, but here David Roberts has done a marvelous job with this beautifully written book. My absolute favorite and Aarya LOVES it too! Everyone knows that tyrannosauruses are big and scary, so when a placid duckbill dinosaur's egg ends up in the wrong nest confusion is sure to ensue! When the baby dinosaur hatches out, he's so out of place that his grisly big sisters call him Tyrannosaurus Drip. Poor little Drip: all he wants is a quiet life munching on water weed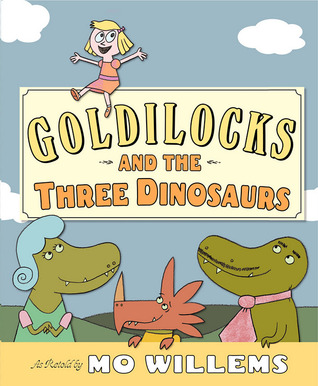 Goldilocks and the Three Dinosaurs: As Retold by Mo Willems Disclaimer: This book was our first Mo Willems books. This is my favorite, Aarya has still not really *got* the humour! This is deliciously FUNNY! This is my absolute favorite book. I can't wait for Aarya to understand it 🙂
"If you ever find yourself in the wrong story, leave."

– Mo Willems
Brontorina by James Howe "On the ouside, I am a dinosaur, but in my heart," gushes Brontorina, as the children below her dodge pieces of falling ceiling and weave between immense stampy dinosaur feet, "I… am a ballerina!" This book should be there in every kids library! It is such a gem! If you don't fit the description that your passion embodies, do you give up or you push on? I read this book as often as I can to Aarya and my girl! Please, this is not a book just for girls. It is for everyone, even for you 🙂
Shared on
<a href="http://www.momto2poshlildivas.com/"><img border="0″src="http://3.bp.blogspot.com/-tRm5pfPJoHo/T-PYLnSLx8I/AAAAAAAALWo/FbEXD-MUgYA/s1600/sundayshowcase.jpg" /></a>